When it comes to home ownership, there's always that lingering feeling of how to improve your curb appeal. The thought of making small adjustments to your home that can help there overall appeal of your house can go along way in maintaining a wonderful place to live as well as increasing the overall value of your home. Curb appeal is effected greatly by the entrance of the home. It's the major part of the home that usually faces the road and is the first greeting your home makes to approaching guests. Since we are experts on entryways, we thought we'd share with you our quick wins on making a statement with your entryway.
Source: Karenefolery.com
Especially in the cooler seasons when there is less daylight, your outdoor lighting makes a big difference in the overall welcoming appearance of an entryway. If the front of your home is dark and dreary, not only does it make it difficult to navigate to the door, but it will also be much less inviting! There are many great options for increasing the volume of exterior lighting that can fit any size budget and are easy to DIY.
Solid front doors are hard to make look inviting. Some try decorating with wreaths or adding potted plants around to liven up the space. However the best thing you can do for your door is to add a decorative glass insert! In less than an hour, you can cut a whole in your door and insert a piece of decorative glass which will give your door a completely new look. Plus you can choose from thousands of design options to make your door personal and fit the rest of your homes style. Add a new handle set and a fresh coat of paint and your door will look brand new again.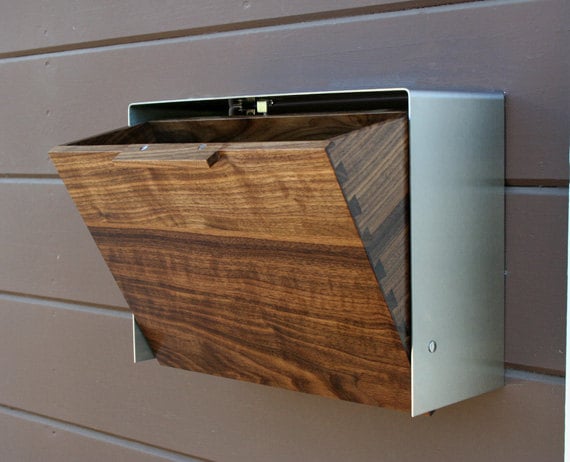 Source: Etsy
Old rusted out mailboxes make your entrance look dated. Mailboxes are inexpensive and easy to install yourself, but will give your new entryway a polished fresh look. Regardless if your mailbox is on your house or near the curb, it's a good sign when a house has a nice mailbox instead of an old dented and worn out one. You can find lots of creative mailbox ideas on Etsy to get the creative juices flowing.
A lot of times, doing preventative lawn care with trimming and edging will help clean up your walkways and give you a clean cut entrance. But if you have cement that is cracking or chipping away, it may be time to do some sidewalk repairs to really give your entrance the attention it needs. Busted up concrete can ruin the aesthetics of an entrance quickly if it's in noticeable areas.
Install a Retractable Screen
Get rid of that old busted up storm door and replace it with a nice new retractable screen door. Retractable screens are much more functional and aesthetically pleasing. They're easy to use and get out of the way when you don't need them. The screen automatically retracts into a housing unit and completely disappears when you're not using it. Plus, it takes less than 30 minutes to install regardless of DIY experience.
Ready to transform your entryway?
Shop thousands of home improvement products and increase the value of your home!